Our Kitchen Wireless Calling System allows a wireless communication between the kitchen and the waiting staff enabling to alert waiters when a dish is ready and avoiding unnecessary trips to the kitchen.
How It Works: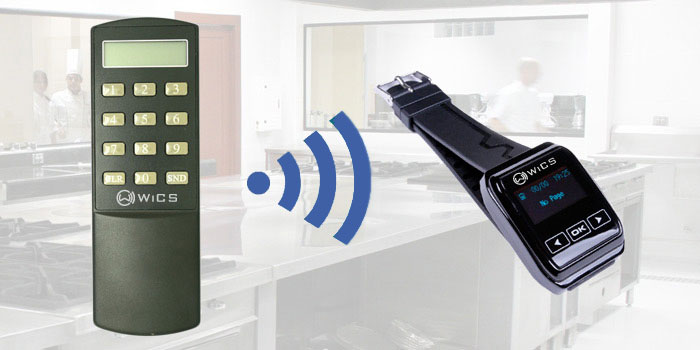 When a meal is ready, the kitchen staff uses the Kitchen Wireless Calling System to alert the waiter responsible for that order. The waiter is immediately notified on his/her pager-watch of the plate waiting in the kitchen ready for pick up; the table number for that order is also specified. If there is confusion with a customer's order, kitchen staff has an instant opportunity to sort it out with the waiter responsible and avoid mistakes.
Our Kitchen Wireless Calling System is also an ideal solution for other parts of the restaurants such as the bar and outdoor barbecue area.
Benefits
Availability increases consumption – Avoid unnecessary trips to the kitchen and have waiters constantly available to customers.
Faster service – Establish fast contact between kitchen and waiters; improve reaction times and serve your food at the right temperature.
Increase profitability - Serving your food faster and having your waiting staff available to your customers improves efficiency and generate more table turns.
Organise your waiting staff – Organise and define how your waiting staff works.
Improve service – Improved communication between kitchen and waiting staff reduces stress and generates a greater mutual understanding.