Our Led Calling System allows the customers to alert waiters when they need something (a drink, a dessert or the bill for example).
---
How it works: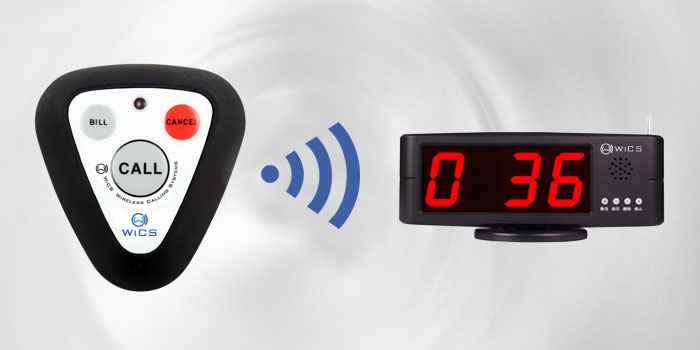 The message is shown on a led display conveniently located in the restaurant or bar.
When a customer requires a service they simply press the calling button on the table, a led screen displays the table number to the waiter. If a customer is asking for a bill and presses "Bill" on the calling button, the table number displayed will flash, so that the waiter can prepare the bill.
Waiters can see the table number on the screen and can get to the table right away. Once they get to the table, they will have to press "Cancel" on the calling button to complete the call and delete the table number from the screen.
Benefits
More turnover – Faster service means shorter customers' waiting and consumption time, increasing income for your establishment. Enjoy more orders and efficiency, leading to more table turns. Our clients have reported an increase of approximately 18%!
Reduce number of staff – Be able to handle larger areas with less staff. Improve waiters' work efficiency and reduce number of persons needed.
Quicker response times  – Improve your waiting staff reaction times and never miss out on an order. Outside and hidden areas can be serviced instantly without the constant need for waiters to monitor.
Improve customer service – Easy to operate: In order to be served customers only need to press the calling button, without having to look for a waiter and then frustratingly having to try to catch their attention. Waiters can receive calling information promptly on their pager-watch and provide timely service without interruption. Customers are more relaxed and satisfied while the environment is quieter.
Simplicity  & cost effectivness  – Extremely easy to use, no wires and minimal running expenses. Low budget option that can be used jointly by number of waiters.
Improved staff productivity – Managers or owners can monitor the workflow.