WiCS wireless calling systems for retails and supermarket enhance customer service, help to minimise staff, increase staff communications, reduce costs and generate higher profits.
---
Allow your customers to call for assistance, as soon as they need it. Placed strategically in fitting rooms, next to locked display cabinets, near difficult to reach locations, on sales counters or designated locations around the store with sign stating for example "Need Help? Press Here". Customers simply press a button to call for staff assistance. Only the assigned assistant will receive the call and respond.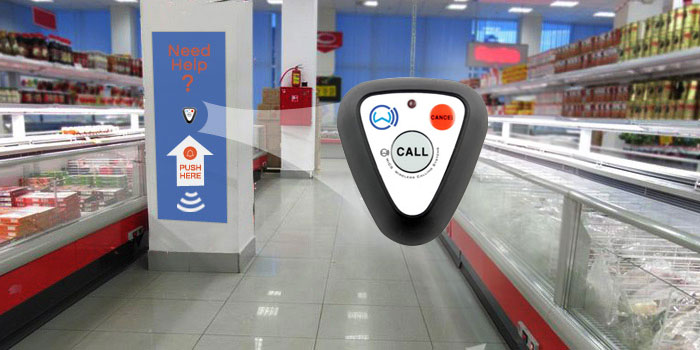 If, for example, there is a problem at the checkout, the cashier presses the calling button for assistance and the assigned person is instantly alerted via a pager-watch or LED Screen that displays the cashier requiring service. The designated person can respond immediately leaving the cashier free to continue processing sales.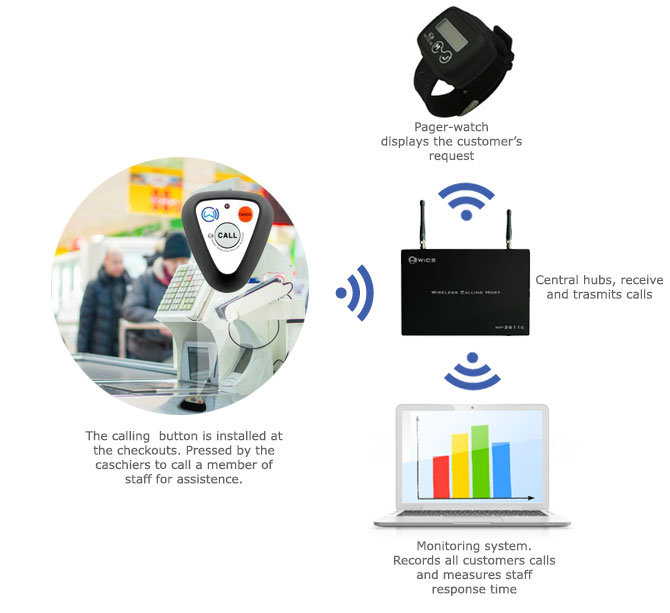 (Optional) Our Monitoring System, which records your cashiers calls, starts a timer which measures the response time of the supervisor and provides statistical reports allowing managers to measure the effectiveness of your organization and the efficiency of your staff.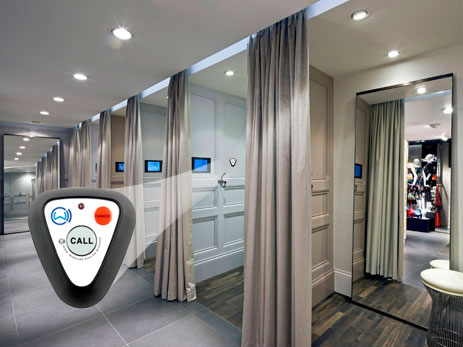 In fitting rooms our calling buttons could be secured to mirrors for customer to use when they require assistance. If for example a customer requires a different size or colour they simply press the calling button for assistance: the changing room number is instantly displayed on a LED screen or the pager-watch of a dedicated member of staff. Staff members are promptly alerted to the customer's request and can respond immediately.
This innovative system offers efficency, privacy and customers' satisfaction.
Video
Benefits
Increase average spending – our systems are easy to operate: customers, to be assisted, only need to press the calling button, without having to look for a member of staff or frustratingly having to try to catch their attention. sales assistant can receive calling information promptly on their pager-watch or on a led display and provide timely service without interruption. customers are more relaxed and satisfied while the environment is quieter: they tend to engage more and subsequently tend to purchase more items and hence increase the sales. our clients have reported an increase of approximately 15% in sales revenue;
Better customers support & quicker response times – improve your staff reaction times and never miss out an opportunity to sell an extra item
Reduce staff requirement – improved work efficiency reduces number of persons needed; outdoor and hidden areas can be serviced instantly without the constant need for members of staff to monitor.
Improve customer service & customer satisfaction – increase general satisfaction of the shoppers: customers no longer have to wonder around looking for a member of staff for assistance, your staff finds them instead, providing efficient service and immediate response.
Increase staff productivity – your staff is directed to the shopper in need of attention when they request assistance by pressing the calling button. there is no need for staff to wait senselessly around sales counters, fitting areas, etc.: instead, they can be engaged in more productive tasks.
Improved safety – safety at the checkout and in store is vastly improved as security staff is instantly aware of any pending threat no matter where they are in the store.
Outstanding coverage range: members of staff can be alerted anywhere inside the store or in outdoor areas.
Simplicity & cost effectivness – extremely simple to use, no wires and minimal running expenses, no intsllation required. staff's pager-watches can be programmed to display and answer only to calls from designated areas requesting assistance, preventing multiple staff responses to the same customer call (each member of staff will have a designated area/department to cover).
Reduce noise pollution – with our wireless calling systems managers can page staff discretely, reducing public announcements and the costs associated with intercoms.
Cover outside or hidden areas – if there is a need for assistance pressing the button will alert designated member of staff. no need for constant monitoring;
Improve staff productivity monitor the effectiveness of sales: managers can monitor the workflow and efficiency of the staff. get real time statistical reports (client expectations, response time, attendance)
Quick return of the investment made – through increased sales and revenue: our clients have reported an increase of approximately 15% in sales revenue.
Increased sales, improved customer experience scores, optimization of staff performance and job satisfaction, reduced theft by increased security and enhanced customer loyalty will enable your company to gain competitive advantage over competitors which is vital in today's economy.